Whether you want to admit or not, summer is coming to a close. Well, at least the summer
vacation
part, which is what I'm referring to. (School's going to begin only just around now for us, for anyone who was confused because they started earlier.) That means that I really don't have any more time left to cover my summer TBR list.
If anyone doesn't remember or didn't see it, towards the beginning of my summer vacation, I had composed a TBR (to-be-read) list of books that I hoped to possibly read over the summer. Now, dd I completely tackle my TBR list? Partially? Barely? Not even at all? Well...
I ended up reading 4 out of the 11 books on my list.
The books on my list were the following:
Being Jazz by Jazz Jennings
You Know Me Well by Nina LaCour and David Levithan
Girl in Pieces by Kathleen Glasgow
I Let You Go by Clare Mackintosh
They Cage the Animals at Night by Jennings Michael Burch
How Many Letters Are in Goodbye? by Yvonne Cassidy
Quiet Power: The Secret Strengths of Introverts by Susan Cain with Gregory Mone and Erica Moroz
Quiet: The Power of Introverts in a World That Can't Stop Talking by Susan Cain
The Bluest Eye by Toni Morrison
The Glass Castle: A Memoir by Jeannette Walls
Miss Peregrine's Home for Peculiar Children by Ransom Riggs
Now, as you might have guessed, the books highlighted in green are the books that I actually read this past summer, and the books highlighted in red are the books that are in red are the ones that I, unfortunately, did not read this summer. Below are snippets of reviews for each of the four books:
Being Jazz Jazz Jennings
"One of the things that I liked when reading this book was that it gave me a new perspective. I really did come to understand the challenges that comes with being MtF or FtM. I mean, I think that we all know that it can be challenging and difficult, but to actually hear what Jazz had to say struck me on a whole new level.
I also praise this book for being..."
Read more
How Many Letters Are in Goodbye? by Yvonne Cassidy
"When I first started this book, I really wasn't expecting the story that I ended up reading. Almost everything that happened in the book was unexpected. I did not think that I would like this book as much as I did. Luckily, I was pleasantly surprised.
How Many Letters Are in Goodbye?
is constructed of the letters that Rhea Farrell writes to her mother, who happens to be dead. The story starts off with Rhea living on the streets of late 1990s New York City. At this point, she has lived almost 18 years of her life, and it hasn't been the easiest. Not only has her mother passed away (with a questionable death, too), but she was taken away from the life that she knew in Ireland over to the United States when her father also passed on. In the states, she was to live with her aunt, Ruth, her aunt's boyfriend, Cooper, and his daughter, Laurie, and new problems arise. With this kind of background, she has a lot of things to carry on her shoulders. This also makes a pretty interesting plot. Oh, and there's also..."
Read more
Quiet Power: The Secret Strengths of Introverts by Susan Cain with Gregory Mone and Erica Moroz
"This book is a guide for kids on how to navigate life - at school, home, in social groups, and activities - using and recognizing their quiet nature. With stories of real introverted kids, the book is designed to help teens and kids to take advantage of their quiet ways, and teaches them to be proud and to embrace it. There is also a section in the back for teachers and one for parents.
As an introvert myself, I found parts of this book to be a bit touching. It was nice to be understood because, most often, school and youth in general encourage and require kids and teens to be more talkative, and the extroverted are often praised. I'm sure that, if you are an introvert or have a bit of a "quiet nature", you have heard things similar to..."
Read more
Miss Peregrine's Home for Peculiar Children by Ransom Riggs
"I hesitated to read this book for a long time. I would see it in the bookstore and consider getting it, but something always held me back. Sometimes I was worried that it was too "scary", and would end up being some sort of horror story. Other times I was worried that it would be too much action for me. Luckily, I was convinced to get it because 1) I had waited long enough, and 2) everyone was so excited for the movie on bookstagram that I figured it must be good.
And it is. It was wonderful. I really did enjoy it."
Read more
Now, these aren't all of the books that I have read this summer. Maybe I should have stuck to my original plan, but when have I ever done that? No, I always have to change things up a bit! The other books that I read this past summer are
The Goldfinch by Donna Tartt
When Marnie Was There by Joan G. Robinson
While I don't have book reviews on these two yet (I only finished them fairly recently), I will give you a special snippet of my ideas on the books:
The Goldfinch by Donna Tartt
This book follows the life of Theo Decker from when he was in the eighth grade and into adulthood. Deeply affected by the accident in which he stepped out of unharmed while his mother died with many others, he finds himself spiraling down into a dark place. And there's also the issue of a famous painting of a goldfinch he had stolen in his confusion and grief.
Tartt uses beautiful descriptions, well-written characters, and a tragic event to craft a story of love, loss, and life.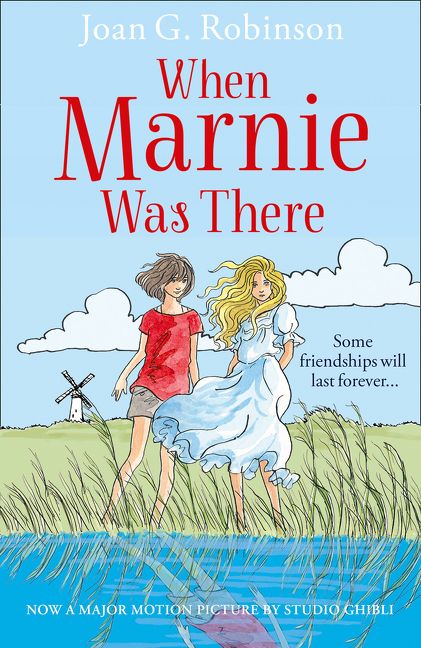 When Marnie Was There by Joan G. Robinson
I had first found out about
When Marnie Was There
when I had watched the movie adaptation made by Studio Ghibli. The main character, Anna, is sent away to some friends in the country to help her feel better. You see, she was using her "ordinary" face quite a lot, and was, in her words, on the outside of a invisible social circle. In the country, she roams free as she likes, and, unexpectedly, makes a strange friend.
This book is about friendship and finding your place, and also of forgiveness and family.
Perhaps next summer I will stick to my list better, but I can never be sure. Out of all of the books I have read this summer, I would definitely recommend
How Many Letters Are in Goodbye?
and
The Goldfinch
. Did you tackle your TBR pile? What were your favorite books that you read this summer?